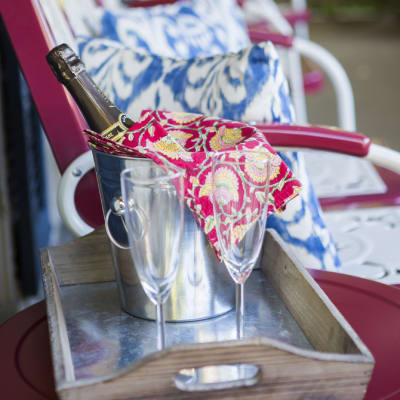 Packages and Promotions
Let us take the guess work out of your next stay at Gay Street Inn. We offer several great packages and local promotions to help you spend more time enjoying your vacation and less time planning.
Celebration Package
Staying at Gay Street Inn for a special occasion? Celebrate the right way with a bottle of carefully selected champagne and a box of chocolates from a local artisan chocolatier waiting in your room upon arrival.
Hiking Package
Planning to visit the Shenandoah National Park on your next visit to Gay Street Inn? Get prepared for your outdoor adventure with the Falcon Guide Book to the Shenandoah National Park, the "Hikes to Waterfalls" and "Short Hikes" park booklets, and delicious, locally-made trail snacks. When the hiking day is done, relax in your room with a reserve bottle of red or white wine from our cellar. (Please note a preference for white wine in the Reservation Notes field, otherwise we will provide a red wine.)
Copper Fox Whisky Package
Just because you're in Virginia wine country doesn't mean you can't also enjoy some of America's native spirit at the award-winning Copper Fox Distillery in nearby Sperryville. Included in this package are two passes for a tour and tasting at the distillery, two custom engraved Copper Fox Glencairn tasting glasses, and whisky-infused chocolates from a local chocolatier.
Stay and Play "a-Round" Package
Enjoy a fun and challenging round of golf at The Schoolhouse Nine Par 3 golf course in nearby Sperryville. Included in this package are vouchers good for two rounds of golf and two sleeves of golf balls (inquire about golf club rental, if needed). Once you've conquered the course, relax in your room with a reserve bottle of red or white wine from our cellar. (Please note a preference for white wine in the Reservation Notes field, otherwise we will provide a red wine.)
Wine Discounts
In addition to our packages, we offer several coupons for discounts and free tastings to some our favorite area wineries. Or, if you're looking to really increase your wine IQ, attend a session of Wine Bootcamp at the nearby Little Washington Winery. Just add our special discounted tickets to your reservation at check out!
Spa Discounts
Planning to really relax during your next visit? Ask us about Gay Street Inn's private discounts at the Little Washington Spa, just steps away!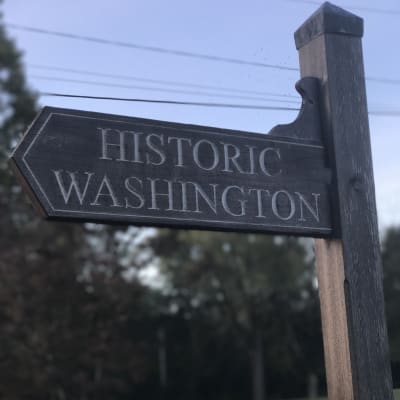 About the Area
The Town of Washington was surveyed by a young George Washington in 1749 and remains to a remarkable degree a village in which he would still feel at home. Rappahannock County as a whole, nestled against Shenandoah National Park, has thousands of acres of land in scenic and agricultural easement, preserving a rural way of life (enjoy apple- or peach-picking) with 21st century social and cultural amenities (attend a concert, visit an art gallery).
Whether you wish to spend a quiet day reading in our library or gardens, shop for antiques, hike mountain trails, go wine-tasting, or have a gourmet dinner, you can find it all within steps or a few miles of the Gay Street Inn. Here are just some of the many nearby attractions to help you plan your visit: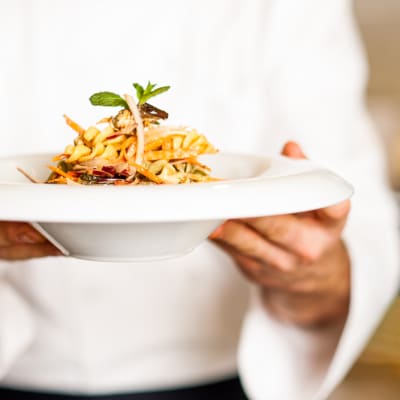 Restaurants
Good food and good spirits -- here are our favorites within walking distance:
Good food and good spirits can also be found at many locations within a short drive (5 to 20 minutes) and these are among our favorites: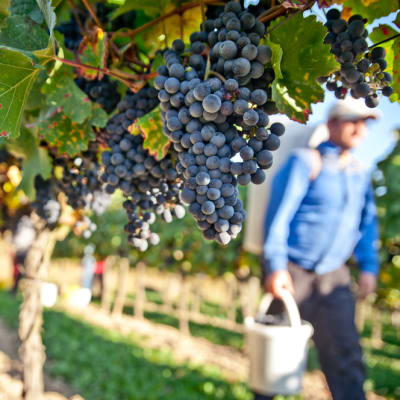 Vineyards and Wineries
The grapes of Rappahannock increasingly have been bringing home major awards from around the country. Tastings in beautiful settings, opportunities for picnic lunches and special events abound at these and other local vineyards and wineries. Be sure to ask us about winery discounts and coupons for free or discounted tastings!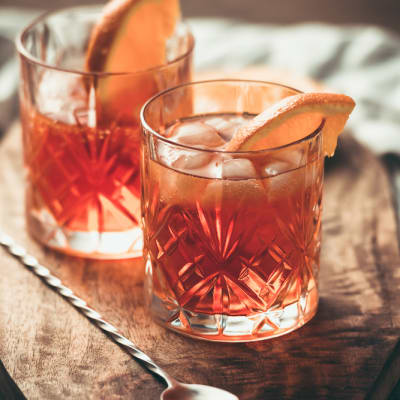 Local Libations
Located just a few minutes away in Sperryville, two micro breweries and an award-winning craft whiskey distillery provide unique hand-crafted ales, small batch beers, and classic American spirits. For whisky fans, be sure to book our Copper Fox Whisky Package for the full experience! Sperryville also boasts an amazing coffee café that roasts and grinds its own coffee beans for a truly outstanding cup of java. And just around the corner in Little Washington, incredible wines are paired daily with delectable artisan confections in a wide variety of flavors.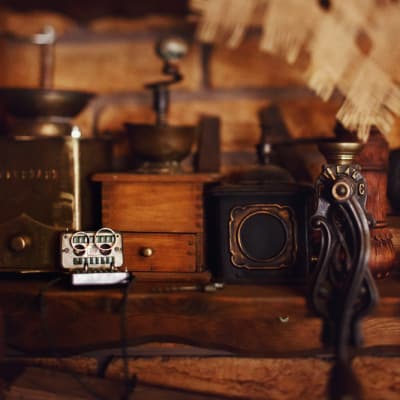 Art, Antique and Gift Stores
R.H. Ballard Art, Rug & Home is a "destination shop" not to be missed. There are many other fine retailers in the area, including in the historic downtown districts of Front Royal, Culpeper and Warrenton. The town of Washington features several art galleries, and the famous gift shops at the Inn at Little Washington, all within a block or two of the Gay Street Inn. A few of our other local favorites: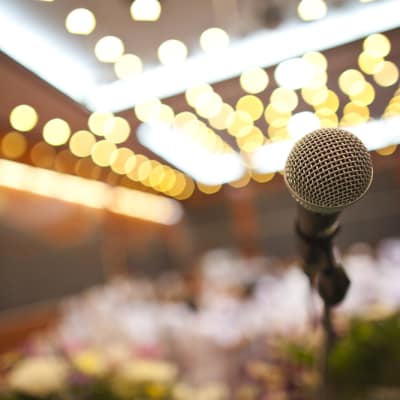 Entertainment & Activities
Whether it's outside among nature or in the comfort of the indoors, there are plenty of ways to enjoy your visit to Little Washington.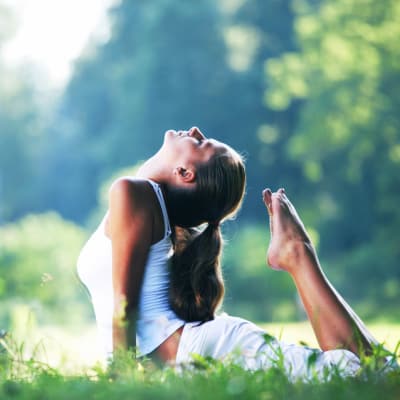 Health & Wholeness
In addition to clean mountain air and an abundance of peace and quiet, massage and yoga are also available nearby to help you relax and restore your spirits: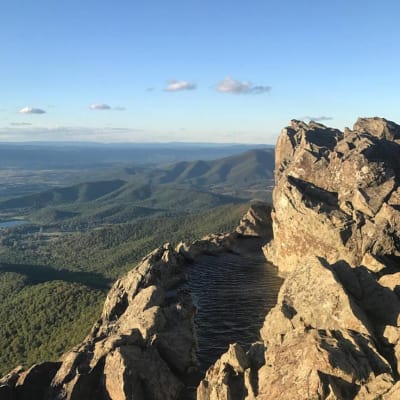 Natural Wonders
Luray Caverns
Luray Caverns are quite simply among the most beautiful underground caverns in America. No matter the weather, the underground lake, wedding-cake stalagmites and pipe organ made of rocks are breath-taking for young and old alike.
Shenandoah National Park
With hundreds of miles of hiking trails and gorgeous views by car from Skyline Drive, this unspoiled mountain park is truly a national treasure. Autumn, of course, is spectacular, but the park puts on a new face for every season and has activities to offer everyone. To make your outdoor adventure even better, be sure to book our Hiking Package!
Shenandoah Caverns
With its snaking, soaring caves, Shenandoah Caverns has amazed visitors for nearly a century. The caverns are kept at a comfortable 56 degrees Fahrenheit year-round, and elevators and easy-to-traverse terrain make this natural wonder accessible to people of all ages and physical ability.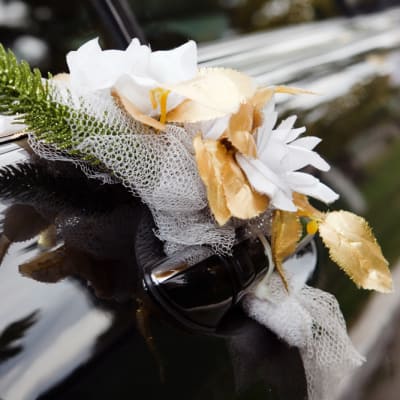 Transportation
If you need to get around Rappahannock during your stay, we recommend Integrity Chauffeur & Transportation and Rappahannock Flyer. They can arrange a winery tour, get you to-and-from a wedding or special event, or provide limousine service from the airport. Call (540) 229-7466 for more information.