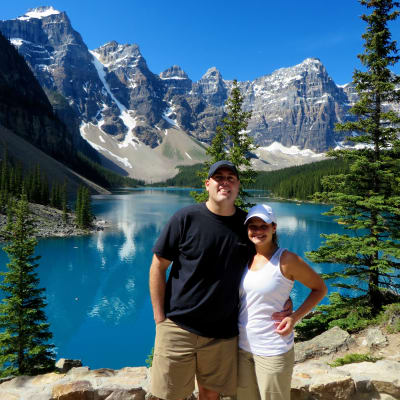 About Us
In a lot of ways, Drew and Deb were your typical Washington, D.C. couple. Drew worked in the government and Deb in consulting. Their Capitol Hill neighborhood was charming, and they loved watching it grow and change over the years. Deb had a passion for baking and wine, and Drew was a whiskey enthusiast, writing for a popular spirits blog in his spare time. Like many, they lived for their weekends and cherished every second of them. Every drive or flight home from a daytrip or long weekend, they would eventually talk about how wonderful it would be to get into the hospitality business; to take what they loved about travel and entertaining and share it with people. That conversation would always end with a promise to explore the idea more when they were closer to retirement, when it made more "sense." Then one happy day Drew and Deb decided it made sense now.
When they stumbled upon Gay Street Inn in "Little" Washington, Virginia they knew they'd found something special. From their first breath of mountain air and stroll around the peaceful but vibrant little town, they knew they'd found home and a place people needed to experience. Not to mention the culinary treasures. From the world-renowned cuisine at The Inn at Little Washington to refreshments at one of the area's many exceptional wineries, craft breweries and distilleries, there's no shortage of experiences to savor.
Whether you are hiking, vineyard-hopping, "leaf-peeping," or visiting for a special meal, Drew and Deb would love to host you for a relaxing stay in the foothills of the Blue Ridge Mountains. Their tastefully restored 1850s farmhouse is a short walking distance from everything "Little" Washington has to offer and just minutes from Shenandoah National Park. Come see why they fell in love with this place.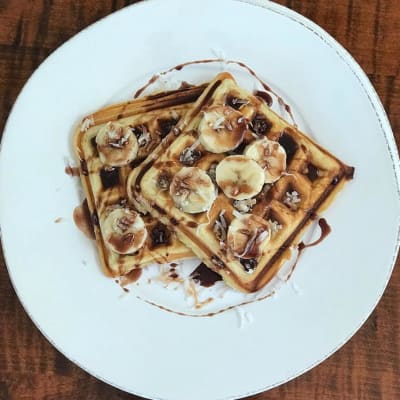 Breakfast
We believe your most important meal of the day should also be the best. Included in your stay at Gay Street Inn is a delicious and leisurely three course breakfast served at individual tables in our sun-filled breakfast room overlooking the beautiful gardens. Breakfast is served from 8:30 to 9:30 each morning. Enjoy our own special coffee blend from Central Coffee Roasters while indulging in our unique and delicious breakfast options. For those who want to start their day early (or sleep in late), a self-serve continental breakfast also is available between 7:30 and 10:30 – featuring home-baked pastry, fresh fruit, and coffee and teas. Enjoy the continental breakfast while you read the paper, then join us later for the full breakfast! We will gladly accommodate any special dietary needs with advance notice.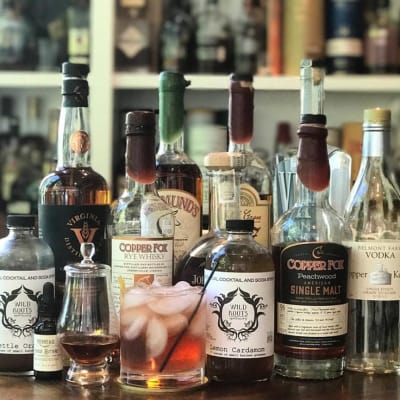 Libations
Included in your stay at Gay Street Inn is a complimentary libation for each room guest. Choose from a selection of wines or pick a craft cocktail from a rotating menu made with some of the finest local spirits and ingredients, including botanical syrups from Wild Roots Apothecary and whisky and gin from Copper Fox Distillery. In addition, guests have the opportunity to purchase optional room packages that include carefully selected wine, champagne, and even whiskey flights showcasing some of the best Virginia-made spirits.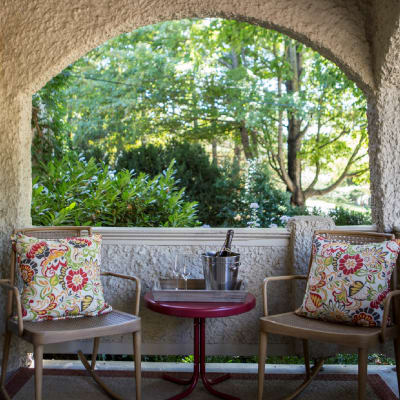 Front Porch
The front porch is an old-fashioned American original, with comfortable chairs and a peaceful western view of Jenkins Mountain and Shenandoah National Park. Because Gay Street ends in front of our house, the porch is always quiet, making it the perfect spot for relaxing, reading, and enjoying your morning coffee or an afternoon drink.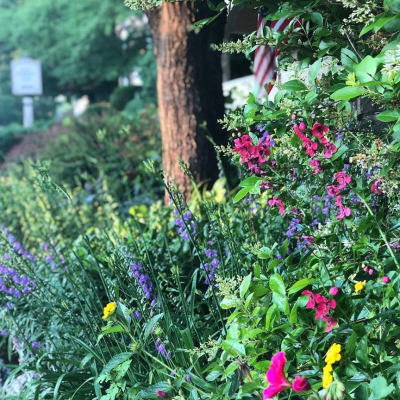 Garden
Our gardens, like most, are works in progress, and they include the plants you'd expect to find in a country garden – daffodils, tulips, irises and lilies. Our expansive yard is comprised mainly of a large lawn, with several inviting seating areas perfect for reading a good book, enjoying a glass of wine, or simply basking in the afternoon sun. In addition, feel free to enjoy any of our available lawn games (cornhole, bocce ball, and horse shoes).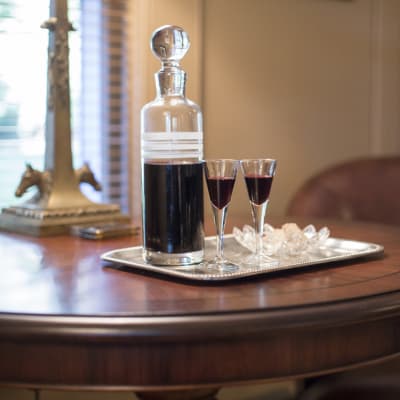 Library
The Library is a wainscoted first-floor room with wood-burning fireplace and comfortable furniture for reading, playing games, or listening to soft music. In the evenings, port and chocolates are served here – enjoy them in the company of other guests or feel free to take them to your room.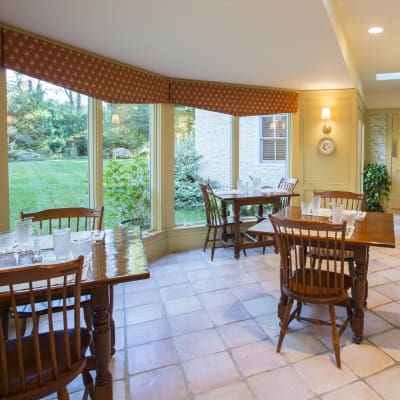 Sunroom
The sunroom is filled with morning light and overlooks our expansive yard and flower beds. Breakfast is served here from 8:30 to 9:30 every morning, and the room is available throughout your stay for socializing and leisure.